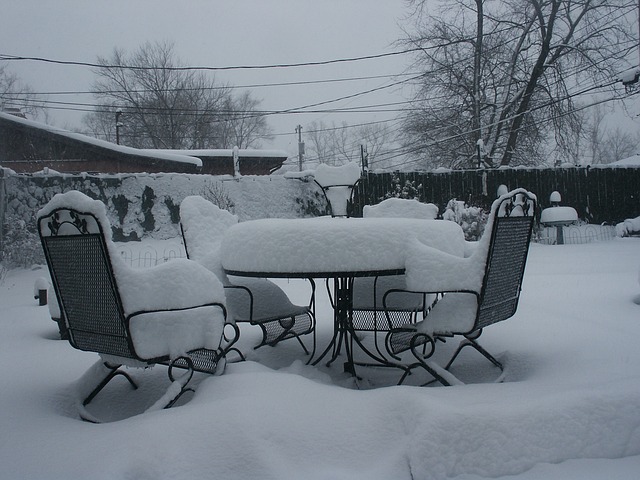 Winterizing Outdoor Spaces
As the start of winter weather has reminded us, colder weather is heading our way. With Thanksgiving over, it's time to prepare your patio, deck and other outdoor living spaces before the temperatures drop and snow and ice begin to take over! To help you, here's a few steps you can take to prepare your landscape and outdoor areas for the colder months ahead.
• Outdoor Furniture Cushions
Remove any outdoor cushions- rinse and air dry. When dry, store in airtight containers, fabric storage bags, heavy-duty trash bags, or under tarps or blankets. Make sure they are stored in a dry room-temperature area. Keep them up off the ground to avoid stains or water damage.
• Tables and Chairs
Natural elements like snow or ice may damage or decrease the life of outdoor furniture left to the elements. It's best to store them before the first snow comes. To protect your outdoor furniture from mold and mildew, deep clean it before you put it inside or in storage.
How Do You Store Your Tables, Chairs and Outdoor  Furniture
To preserve your outdoor furniture, follow these tips:
• Metal, Wood, and Wicker
Store indoors or store outside with a cover.
• Plastic Furniture
Store indoors during freezing temperatures.
• Umbrellas
Wrap and store umbrellas in a waterproof place.
• Fire Pits
Larger furniture and fire pits show be covered to protect them from ice and snow.
• What to do With Your Outdoor Water Fountain
1. Drain of all water.
2. Clear any water left in the pipes.
3. Add Non-Toxic Antifreeze to pipes.
4. Disconnect power.
5. Clean and remove pump.
6. Repair cracks.
7. Elevate fountain and cover to protect from freezing and cracking.
• Protecting Your Plants from the Elements
There are a lot of ways to protect your plants in winter, but here's just a few ideas:
1. Add mulch or hay to the soil.
2. Cover with burlap or a Jute sack. Even an old blanket or drop cloth placed over night can protect them from frost.
3. Water the soil deeply if you're expecting a really cold night. The soil will trap the heat more efficiently and the water will evaporate slowly keeping the air around the plants warm.
The Reward
Winterizing outdoor spaces is so worthwhile doing. Come the warmer temperatures you'll be so glad you took the time to protect your outdoor living spaces.
Being able to enjoy your outdoor furniture and the beautiful plants or fountains around the outside of your home is worth all the effort. And don't forget, at A+ Lawn Care & Landscaping, Inc., we have everything you need to keep your beautiful landscape – just that, Beautiful!
Contact us, or visit our Garden Center and see what we can do for you!